Upcoming Events
Upcoming Events
Please Click Here for our latest Weekly E-Newsletter. This includes up to date information on upcoming events in and around Congregation Shir Shalom.
Please Click Here for our latest Congregation Shir Shalom Monthly Calendar.
Please Click Here for our latest Congregation Shir Shalom Monthly Bulletin.
For additional "up to the minute" updates on Congregation Shir Shalom, we invite you to visit and "like" us on Facebook: www.facebook.com/ShirShalomRockland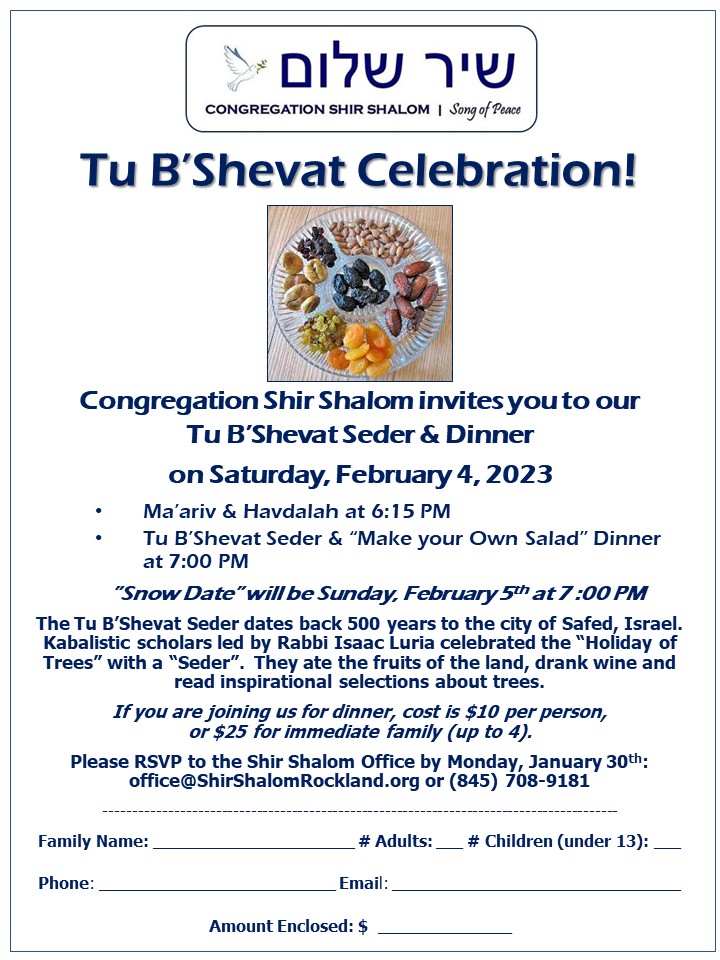 Congregation Shir Shalom uses cancellations.com to notify congregants, parents, staff and the community of delays, early school dismissals and cancellations of our religious school, minyans and other important events. A decision about weekday closings will be made by 2:00pm.
BE A SHABBAT SPONSOR
KIDDUSH – Saturday Morning: Sponsor/co-sponsor for any simcha.
Contact Catering at (845) 708-9181 or catering@shirshalomrockland.org
ONEG – Friday Evening: Sponsor/co-sponsor or honor your child's birthday at the appropriate Family Service.
We encourage you to be a full Kiddush "Sponsor" for major family and lifecycle events. In addition, for smaller family events and milestones, we offer you the opportunity to be a Congregational Kiddush "Supporter". Please click here for details on how you can help "support" our weekly kiddush.
As always, for more information on being a sponsor and/or supporter of our Kiddush, please contact our Catering Department at catering@shirshalomrockland.org or (845) 708-9181.
Tue, January 31 2023
9 Shevat 5783
Please Note
Our Friday evening and Saturday morning
Shabbat Services, as well as our
Monday and Wednesday evening Minyans are currently held both in-person and on Zoom.
In addition, all of our weeknight Minyans
(Sunday through Thursday) are held on Zoom.
COVID Update
For your health and safety, and for the health and safety of your fellow congregants, it is strongly encouraged that you please continue to wear masks and maintain social distancing when inside Congregation Shir Shalom.
Ukraine - What We Can Do
Please click here for an important
communication from JCC-Rockland
regarding the current situation in Ukraine,
and ways we can help out.
Tue, January 31 2023 9 Shevat 5783